July 19, 2023
Allegations of Sexual Assualt Leaves the Punk World Rocked
July.07.2023 - Ace Hartmann
Hours ago people noticed the legendary punk band, Anti-Flag, which formed in 1988, deleted all their social media pages Today. Member Chris #2 also deleted his social media as well. Screenshots of the band's patreon (image on left) suggest that the band has indeed called it quits. The breakup and deletions happened on the same day a woman claimed she was raped by the "lead singer" during a lengthy podcast interview. The band has not yet issued a statement on these allegations.

The victim Kristina Sarhadi appeared on the Enough podcast, full episode found in this link Although Anti Flag's Justin Sane was never named, she called him the "lead singer" in the podcast.
Speaking of one of the times she saw the band perform, Sarhadi explained:
"I had seen them a million times before. They were one of my favourite bands to see live. I obviously went right up to the front row, and during the show, the lead singer and I had that moment where, like you lock eyes, and then you're just singing to each other."
As soon as the concert ended, Sarhadi says that the rest of the band left and the crowd dispersed — but the singer came up and talked to her. They discovered he would soon be in her area for a film festival promoting a documentary he appeared in.
Sarhadi and the political punk musician, who was nearly double her age, exchanged numbers and made plans to have dinner at the film festival. She said that it was a documentary about "protest songs." Justin Sane was featured in a documentary called Sounds Like Revolution in 2010. The documentary was featured at the Woodstock Film Festival, near Sarhadi's home, from September 29 through October 3 — shortly after the Brooklyn concert. Justin Sane was on a panel and performed at the event. Following their time spend together at the film festival, the singer asked Sarhadi if she could drive him to a party in the woods. During their travel, he reportedly got touchy with her and started hitting on her. At one point, he repeatedly asked her to get into the backseat with him. However, she declined the offer.
Sarhadi had a serious boyfriend at the time and did not want to do anything sexual in her grandfather's vehicle. She says she told him she did not want to, and he kept pushing, so she lied and said she had her period.
Once they arrived at the party, he introduced her to people as his girlfriend, which she said caused her to let her guard down. Another female fan was hanging around and befriended Sarhadi. The alleged victim said that the singer looked both girls up and down, turned to her, and said, "let's drive her home," as if he had chosen her over the other fan.
The musician ended up kissing her on the porch of the house where the other woman was staying.
"I immediately felt like the worst person in the world," she told the podcast hosts.
Still, Sarhadi drove him back to his hotel.
The musician, she says, then told her that he had just recorded a song with Billy Bragg and that she needed to come to hear it. Excited, she thought to herself that she "needed to hear this song."
Anti-flag was famously straight edge, meaning no drugs or alcohol, and so was Sarhadi. In fact, she claims that she was influenced heavily by them to live that lifestyle.
Oddly, when they arrived at the hotel, he took her to the bar and told her a sob story about his fiance leaving him. They both decided to break their own rules and drink.
The night ended with Sarhadi landing up in Sane's hotel room while inebriated. She recalls he threw her on the bed after screaming "football tackle." Speaking about the assault, Sarhadi said: "As soon as I hit the bed he put his hand around my throat and basically turned into a monster. There were several moments that I thought I was dying. I definitely may have passed out or thought I was about to pass out."
She shared that she was "crying, screaming" and begging him to stop however, the "violent" assault continued for a long time, leaving her to believe that she was going to be dead at the end of the night.
As stated above, Justin Sane was never mentioned by name in the podcast and Anti-Flag has not made an offical announcment on these allegations. You can listen to the podcast in full down below and come to your own conclusion as who Kristina Sarhadi may be referring to. Anti-flag was about to go on a US tour later this year, so the break-up seems random and serious. Racketeer Radio KFQX will keep you updated on any other informative news on this topic.
According to Massie, their crew guy, Anti-Flag truly is a disbanding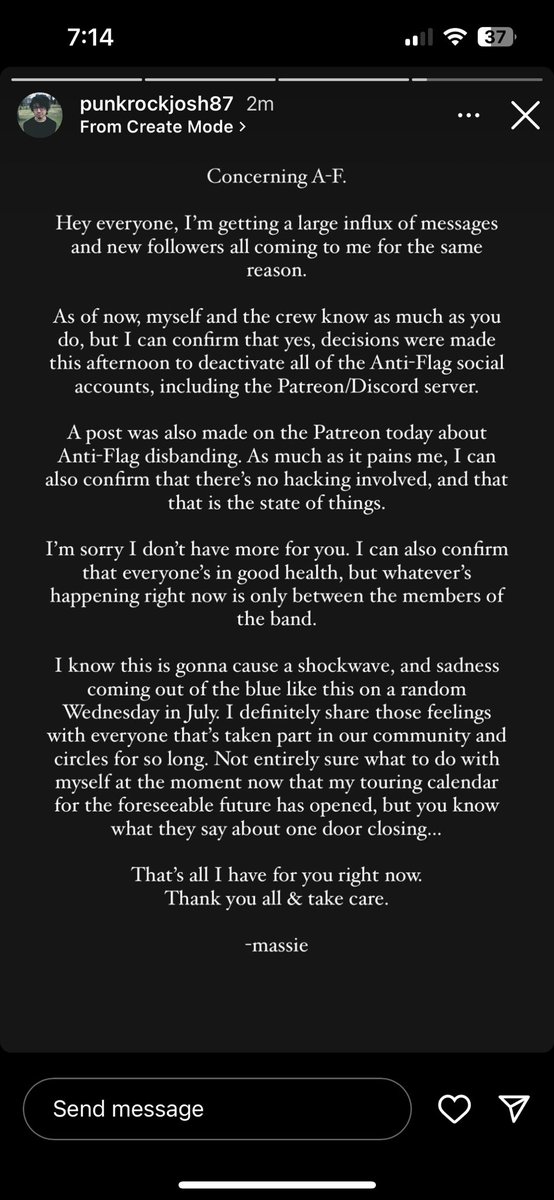 Source: What did Justin Sane do? Allegations explored as Anti Flag breakup leaves fans distraught by Karishma Rao via Sportskeeda.com
twitter:@ryanAdriennec